IT'S ALWAYS the PERFECT time to show you care– The HOLIDAYS are when we make more of a concerted effort tho!! Bless yourself or someone with Gifts that KEEP Giving with ThanksGiving Week Specials from Green Health First! Especially with the health challenges of today– We'd love to equip/empower you and your loved ones.
Get wonderful stocking stuffers– All Natural Hand Cleaners! In an invigorating way to PROTECT you and those around you since the aromatherapy of the chosen components are NOT ONLY Immune supportive, they provide mental wellness benefits uplifting the mood, and mental clarity! Also 4oz Body/Room Sprays for the living room, bathroom, bedroom- your choice!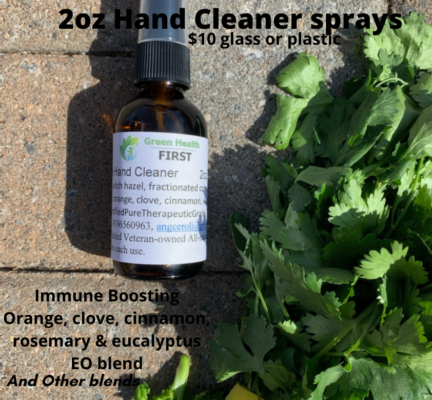 Green Health First has made bundles of essential oil body/room mists, roller blends, blend vials, 2CupsGreenTEA Hawaii pixies, AND is Partnering with local artisans: Beads By UMBRA & Paulette Disbrow Gourd & TSHirt Art diffuser necklaces/bracelets, Fera'wyn's Artisan Chocolates, ArtfulJEM tile paintings, TAZ Tammy RocktheTazbah Nails & Lashes, Mama Duck Nails, & Crown Jules Clothing with organic fabric face masks like in this Fall Festive Kit Bundle, and more. these are all AMAZING ARTISANS!!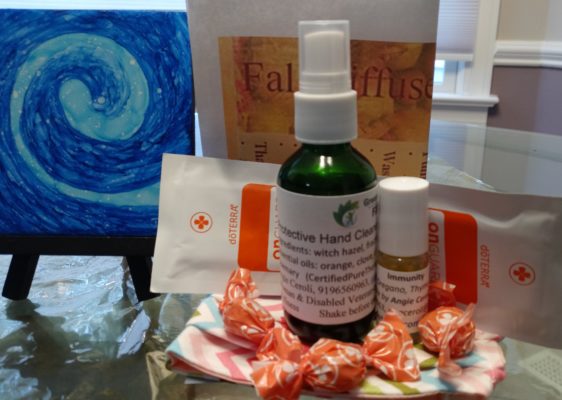 Text/Call Angie Ceroli at 919 656-0963 or email angceroli@gmail.com to order GIFTs that KEEP Giving– from $10-$85 + shipping(if can't be delivered). Items available singularly as well or customize your own bundle. Hand cleaners in different effective antibacterial containing components in plastic or glass spray bottles. Same with the body/room mists. I INVITE YOU TO JOIN OUR INVENTORY REDUCTION GROUP TO SEE ALL PROMOTIONS BY 15 VENDORS! I invite you to join Facebook group: INventory Reduction Group Vendor Sale to find Holiday gifts from 15 vendors who'll post throughout this Thanksgiving Week, Nov 23-28. FREE delivery in the Triangle NC area, shipping costs will be added for mailed items. We can accept PayPal and Venmo. Purchase/Order/Pickup also at the Holiday HghlanderIII Games, Dec 5th, Dirtbag Ales, Hope MILLs NC 8-3pm or at the Apex Vicous Fishes Mistletoe Madness event Dec 6th, 12-430pm. SHOW LOVE AND SHOP LOCAL!
I love this quote- from my friend's email tagline THANKS JILL:
A woman is like a tea bag. You never know how strong she is until she gets in hot water.