Frozen yogurt that supports healthy hair from Dr. Hal Weitzbuch, MD, Dermatologist
Did you know that added sugar can cause your body to produce an excess amount of DHT, a hormone that causes hair loss?
For those hot summer days, instead of consuming high-sugar ice cream/frozen desserts, Try this refreshing frozen treat from Dr. Hal: put all ingredients in a blender, with fruit on top; blend 2-3 min and then put in containers as desired and freeze 2-3 hrs: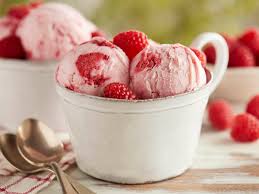 • 1 cup Greek yogurt, full-fat
• 1 cup raspberries, frozen
• 1 Tbsp. vanilla extract
• 1/16 tsp. stevia extract or to taste or 1tbl honey, or no sweetner
• 1 dash salt
• ½ Tbsp. vodka (optional)*
*Because vodka has a super low freezing point, it'll help prevent this dessert from getting rock hard in the freezer. And if you want to leave the vodka out, just allow the frozen yogurt to thaw for a few minutes before serving.
Here's how this helps your hair:
Greek yogurt is a terrific source or protein, a "non-negotiable" for strong, healthy strands. Also, because Greek yogurt is naturally acidic, it helps your body absorb hairsaving nutrients from the other foods you eat.
Raspberries — or "nature's candy" — are abundant in Vitamin C, a nutrient that helps you produce the exact proteins your hair is made of. Vitamin C helps your body maintain a healthy supply of collagen, and structural proteins that make your hair look amazing. As we age, our bodies don't produce as much collagen, so this is a great way to hold on to what we have! Raspberries are also packed with supernutrients called antioxidants.
Antioxidants help protect against free radicals. These are dangerous molecules that can make your hair look duller, weaker, and thinner.
One could also add ½c of peaches, which are also high in Vitamin C and zinc, a nutrient that can nourish your hair follicles to promote healthy hair growth.
Last but not least, honey is basically a "treasure trove" of antioxidants, which help make your hair less susceptible to breaking and splitting.
Other options for reducing DHT production:
Oils essential to help keep the levels of DHT down, balance inflammation and soothe away oxidative stress include sources of GLA, gamma linolenic acid- a special type of fat in the omega-6 family, like sesame seed oil, black currant seed oil, hemp seed oil & flaxseed oil along with spirulina, a type of blue-green algae. Add these to your supplements/foods for reduction of hair loss.
Dr. Hal also recommends a hair spray for when you're in the sun to protect against those harmful UV/UVA/UVB rays, that contains…. raspberry seed oil:
• 1 tablespoon sesame oil -high in polyphenols to replenish nutrients the drying sun
• 10 drops red raspberry seed oil -high in polyphenols to replenish nutrients the drying sun
• 200 ml. distilled water
• Small spray bottle
May want to add 2-3 drops helichrysum as this has an SPF rating where the rest of these ingredients do not.
Combine the ingredients together in a spray bottle and shake thoroughly. Spray mixture onto dry or damp hair before you step out into the sun.
Store it in the refrigerator between uses. The fatty acids in these "superstar" compounds/polyphenols can help your hair retain essential moisture, and give your strands a silkier, more lustrous quality.
Disclaimer: This spray does not have an SPF rating, and is not meant to keep you from getting sun burns and skin cancer. So be sure to wear sunscreen and a hat.