From a recent AARP article:
There are a lot of supplements out there that don't work," cautions Majid Fotuhi, M.D., medical director of NeuroGrow Brain Fitness Center in McLean, Va. One of these supplements is one you've no doubt heard of — ginkgo biloba. One study published in the medical journal The Lancet Neurology of almost 3,000 adults over age 70 with memory complaints found that this herb didn't reduce rates of developing Alzheimer's compared to those who took a placebo. Similarly, faddish DHEA supplements also recently failed to pass muster in studies.
Don't fret though, because doTERRA has one of the best plant-derived formulas in the Lifelong Vitality pack, which is the Number 1 selling product for this essential oils company. Do your homework and ensure the data is clearly documented showing the labels reflect the contents of the product!
It's a 'no-brainer' to give this 30-day supply a try since there's a 30-day money-back guarantee!- just send the empty bottles back if you don't feel they've improved your health in the 30-day trial! Holistic doctor, Dr.Josh Axe provided this 6min video
describing how these vitamins and minerals and plant essential oils are formulated in the best form that the body can absorb so more than 85% of the provided nutrients are used by the body. Many report increased clarity, better sleep, reduced pain and more energy during the day. Vitality pack contains a multivitamin, a E-Omega complex (available in vegan as well) and a proprietary Cellular Vitality Complex combining potent levels of natural botanical extracts that support healthy cell function with important metabolic factors of cellular energy (Alpha CRS+) –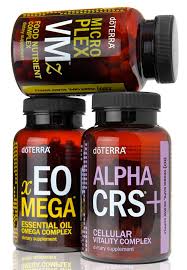 'Research shows (fish oil supplements) positive effects have been seen in people who already are suffering from early-stage dementia. One study published in the British Journal of Nutrition followed people over the age of 65 who had mild cognitive impairment for 6 months and found that those who took daily fish oil pills improved their scores on verbal fluency, a type of memory-related test where you have to produce as many words as possible from a category in a small amount of time. But a 2012 Cochrane Library review looked at the use of fish oil in more than 3,500 cognitively healthy older people for up to 40 months and saw no benefit. Chances are, if you eat fatty fish such as tuna, mackerel or salmon at least twice a week, you're getting enough fish oil, and a supplement won't make a difference, explains Cooperman.'
The AARP article also emphasized supplementing these nutrients will support healthy brain aging:
' Certain B vitamins may help slow memory decline when they're taken for at least 18 months, says Tod Cooperman, M.D., president of ConsumerLab.com, one of the country's leading independent evaluators of dietary supplements. One two-year study of people age 70 or over who had mild cognitive impairment, for example, found that those who took a combination of B vitamins (800 mcg of folic acid, 500 mcg of vitamin B-12 and 20 milligrams (mg) of vitamin B-6) had slower cognitive decline than those who took a placebo. These vitamins, especially B-12, are important for brain health because they help insulate and build up brain neurons, says Fotuhi. Yet "about thirty percent of people over the age of 50 don't absorb B-12 properly from food," notes Cooperman. As a result, they're more likely to be deficient.' Hawaiian Coconut energy contains 500% drv B6/B12 per 20oz serving– find Angie at local events to try and buy some!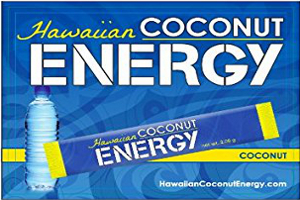 'If you're over 50, it's a good idea to get your B-12 levels tested, advises Cooperman from the AARP article. If they're low, talk to your doctor about temporarily taking a 100- to 500-mcg daily supplement of B-12, along with possibly 400 mcg of folic acid. It's also important to make sure that you get the recommended daily allowance of B-6, which is 1.7 mg. You can easily get this particular vitamin through your diet, and supplements aren't recommended since high doses have been linked to reduced kidney function and stroke.'
AARP's article lists Curcumin for improving thinking skills/memory: 'Curcumin– is found in the spice turmeric and is what gives it its orange-ish color. It also provides a host of anti-inflammatory and antioxidant properties. Some research has also found that it may benefit both your thinking and memory.'
'A teaspoon of turmeric spice contains about 150 mg of curcumin, so you can reap its benefits by adding a dash to your food every day. (If you do opt for a spice, use it in a meal that contains fats or oils, which increases absorption, says Cooperman.) If you take a supplement, be cautious, as many commercial brands don't contain the amounts they claim on their label.' The Vitality pack and all products are tested in-house and by a 3rd party to ensure the contents are plant -derived and in the quantities/quality as the label reflects. The Alpha CRS+ contains turmeric and now a turmeric essential oil is available.
The AARP article also suggests cocao flavenols are linked to improved memory and thinking skills 'ConsumerLab's testing has found that Hershey's (100% Cacao Natural Unsweetened) powder has the highest levels of flavonoids with the least contamination with cadmium or other heavy metals.
JOIN GREEN HEALTH FIRST SUPPORTING DIMENTIANC.ORG'S FESTIVAL OF HOPE, SATURDAY, OCT 20, 830AM-2PM,KNIGHTDALE STATION PARK –
https://secure.e2rm.com/registrant/EventHome.aspx?eventid=242486&langpref=en-CA&Referrer=direct%2fnone#&panel1-3